MIAMI, Fla.--The Las Vegas Raiders (5-6) came into this game with the proverbial puncher's chance to win, and against the NFL's best offense, they lost 20-13 to the Miami Dolphins (8-3).
In our latest episode of the Las Vegas Raiders Insider Podcast, we break it all down for you, so that you can go behind the scenes and find out what happened.
You can watch the entire podcast above.
After the game, the sensational young coach of the Miami Dolphins had a lot to say about the game; below is a transcript.
Miami Dolphins Head Coach Mike McDaniel
Q. I think you guys put up the yardage that we're kind of accustomed to seeing but 20 points. What would you say was the biggest thing hurting the offense or the offensive performance today?
MIKE McDANIEL: Two fumbles, and then we didn't take advantage of the one time we got down there, and it was fourth-and-1, so we turned it over on downs. Then there were just some things – we'd usually get the drive started – I think we had only one or maybe two three-and-outs, but there would be something, whether it was a holding call or something we'd shoot ourselves in the foot. Those are things that you expect in an NFL game. You don't expect to score 30 every time. I think our crew will feel as though they had the ability to for this game, but hats off to the Raiders team in general. That's a five-win team that played as hard as anybody here at Hard Rock, and they get paid, too, so we'll learn from the stuff that we can and get better from it, but ultimately it's a team game, and when you do come up short offensively, you need somebody to pick up the slack. To have two fumbles on the 30-ish yard line in your own territory and have that equal six points, I believe, and then to have a couple very timely interceptions, that's what you have to do to win in the National Football League. You're not always going to supremely execute on one side of the ball or the other.
Q. Did you feel there was some rust in the operation a little bit coming off the bye?
MIKE McDANIEL: No, I didn't feel that during the game. There weren't that many – I was happy with the overall operation. There were times that we were changing the play based on unanticipated defensive personnel changes. They were trying to pretty much keep us off balance and not have a pattern. So there was a couple times that we were late in the play clock, but I thought overall the operation was solid.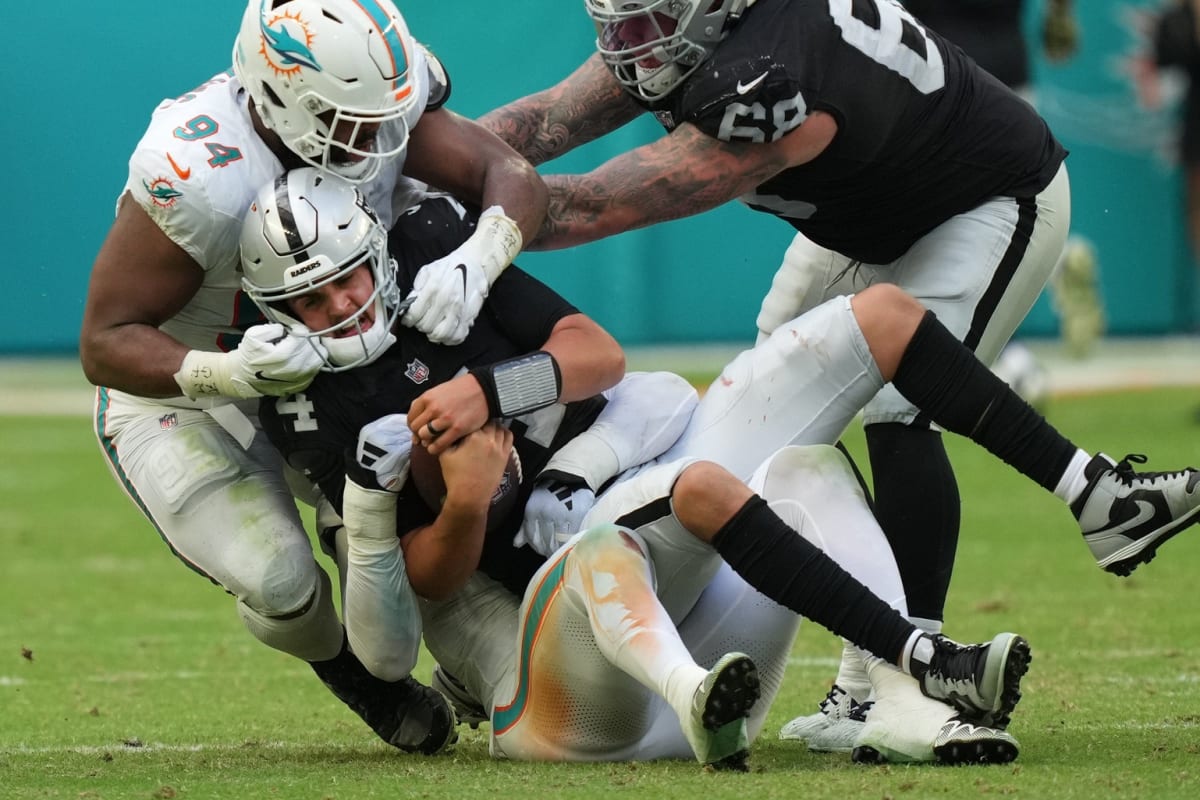 Q. Three of the last four weeks now haven't been up to I'd imagine the standard you would want. Has it been something common or just three bad games?
MIKE McDANIEL: No, I mean, I look at a game like this: It's not necessarily a bad game, it's a game that we came up a little short. I wouldn't see any consistency with that in terms of like a pattern. How many yards did we have? I mean, that's hard to do. Again, we'll always be super critical. To call it a bad game I think would be – I guess hats off to us for raising your standard. But I was really happy with the way the guys approached coming off the bye. I think you learn a lot about people, how they handle – you probably learn more how they handle failures than successes, and I thought guys were intentional and deliberate to another level this week. I think that our team in general has kind of captured the idea of worrying about ourselves and each opponent is very threatening, and you have to bring your best. I think there is some stuff that we'll really see in the film in the run game that we could have had more in. They were just kind of playing soft and really, really wide. Their alignments were different. There was some space there and I thought we could have had more, but overall I'd just like to see us hang on to the ball and not have some of the mistakes that really kind of cost us. But it was the first game that I can remember not playing with Durham Smythe and we lost (De'Von) Achane early and Braxton (Berrios) wasn't up, so I thought overall guys in different roles stepped up, and we'll continue to progress.
Q. Speaking of RB De'Von Achane, what happened to him? He only played three snaps and he was never ruled out but obviously didn't come back in the game?
MIKE McDANIEL: Yeah, I think it was when he came off the field mid-series and 'SA' (Salvon Ahmed) ran on, we had two backs in the game, I think it might have been the second series, he kind of got landed on, and it was a little painful and we weren't – he was politicking to try to come back in the game, but I was a little worried off the rust to go and do that. We kind of held him back, and we'll see what it looks like tomorrow.
Q. Is it the same knee that he had just come back…?
MIKE McDANIEL: Someone landed on the same knee. So that's kind of – we just didn't want to mess with him. We had some positive feedback from the training staff at the end of the second quarter and after halftime, but I didn't feel like at that point that would have been fair to him.
Q. Just so focus on your defense, this is the second game in a row with a second half shutout. With DT Christian Wilkins on the drive before the CB Jalen Ramsey interception, he had a touchdown-saving tackle. Can you just touch on that?
MIKE McDANIEL: That's Christian (Wilkins). If you ever watch him at practice and you watch him in games, he does that literally every snap that the ball is down the field. And I think on that play in particular when we go and review the film, there will be a couple guys that are salty at themselves because Christian probably wouldn't have had to make that tackle had they had the same kind of mindset. But that's what happens when you have players like that that have standards with which they go about their game, that you raise the level of everyone. Sometimes players don't like to see that. They're all competitive. When you get somebody pursuing pass to you, that sticks out to them, so hopefully we'll get back from it, but he has continued to progress in his game all season, something that he's done his whole career, so I've been very happy with him and what he brings to us is very important.
Q. With CB Jalen Ramsey, can you talk about the level of clutch he has, especially at the end of a game like this? How much confidence do you have in him individually that he can step up and make a play?
MIKE McDANIEL: I'm really hoping they throw at him, honestly. I mean, both interceptions were out of control in difficulty level. You could see him on the first one, see the ball, and he was the aggressor. I think he was behind the receiver on an in-break, and he bypasses him to get that thumbs-together catch that he's diving for that a lot of receivers don't make that reception. Then to track the ball down the field and to get contacted in the moment of truth and hang on to the ball, I mean, it's huge. I think the whole team has gotten a little bit better to a degree since he's been on our team or since he's been back and that's the type of effect that players of that caliber can have on people.
Q. When you look at the some of the short yardages, you mentioned the fourth-and-1 and later on the pitch to FB Alec Ingold. What would you say were some of the issues? Do you wish you had some play calls back or was it more of an execution…?
MIKE McDANIEL: Ultimately we have to – I think all the players will look at the second one. I think the first one – the fourth-and-1 I'd rather that have play call back for sure based on the defense that they did run. Every play I call, the intent is to work. I'll always look at myself for each and every one. I think the one later in the game, I think the players will learn from that one. We had some open eligibles, and I think several guys were a little too amped up and didn't let the play play out because we had some open eligibles and didn't come up with anything. Yeah, those situations, it is what it is. Every single time something doesn't work, inherently it's like, yeah, I wish I would have called a different play that worked.
Q. Sanders made the 51-yarder for a seven-point lead. Obviously it was not an obvious decision. What went into your choice to go with the field goal attempt?
MIKE McDANIEL: Yeah, that's definitely not to my pattern or stereotype, but that was me adjusting to the particular game, and I was really super confident in the defense. I felt like a touchdown lead, they would really, really have to – I thought it was pretty safe. I thought those were big points, which is why I didn't go for it, which kind of my knee-jerk. But I was adjusting to the situation.
Q. I wanted to ask you about the fourth-and-1 play where WR Tyreek Hill got hurt and then there was a play before the half where QB Tua Tagovailoa took a hit in back on the last play of the drive. You wanted the plays to work when you called them in and you had no way of knowing that Tyreek would get hurt or Tua would take a hit on those plays. How do you balance your aggression on those plays as a play caller and just trying to get more in the moment where an alternative decision could have worked, as well?
MIKE McDANIEL: I think the fourth-and-1, to me I think we would have gotten it – the reason I want that one back is because I think the execution of it could have been better, but for the execution to be better, I would prefer to put them in that exact scenario and be crystal clear. It was the difference between having a ball fake and not having the ball fake is what cost that one. The end of half, I didn't question my decision Week 1 when I did the same exact thing. We did two of those plays starting with nine seconds and threw it down the field and got a DPI. I think you can't have your cake and eat it, too. Again, if I had a crystal ball it would be easier to call plays, but there's an inherent risk in every play you try to execute. I knew the risks in that one, but I also knew the reward. If the defense played out the way I thought, it would be a down the field opportunity that we could have had the same situation as the Los Angeles Chargers Week 1, which those three points were pretty important.
Q. It was quite an emphatic challenge flag throw?
MIKE McDANIEL: Yeah, I apologized to those guys. I'm not a 'look at me' flag thrower. What was happening is I was engaged in a conversation. I told people to speed me up on the replays that they got, and then I lost track that I told people that, and I was deep into the conversation, and then people were yelling at me, and I wasn't next to an official, so I just wanted to get it in view. It wasn't like, 'yeah, take that, officiating.' (laughter) Their job is hard and I was just trying to make sure that my – I literally instructed someone to tell me and then went and got in a conversation and blacked out, so the second they got back in my ear, because I saw live that it was going to be close, so there's people in the box that have multiple replays that can – that's how we kind of do that whole procedure. It was just me being out of position.
Q. How would you assess Tua's game today?
MIKE McDANIEL: I was very, very happy with Tua because I'm always wary of Tua because he is so hard on himself. I knew he was going to be frustrated with the last game, and we had so much time in between. But all of my anxiety was kind of alleviated in the practice week. I think he might have had his best Thursday practice that he's had since we've been here overall as a quarterback. Then the one pick he threw was – like the timing of the play, and (Jaylen) Waddle was running to the middle, he was running the deep post, and at the time he threw it, Waddle, it was single safety, so Waddle has to make a decision to go over the top or underneath it. And at the very moment that he threw it, Waddle hadn't made that decision yet. Waddle went underneath, Tua threw it over the top, and immediately when they came to the sideline, it was like, neither one of them was frustrated and understood it was probably one of those things that will help us moving forward in terms of how I coach stuff because that scenario had never come up. I thought he was playing very well, and he had command, and he had a very even keel disposition, which is so imperative for that position.
Q. You've been praised all season for the offensive effort, but the defense especially in the last couple games has been equally impressive, guys like LB Jaelan Phillips, DT Christian Wilkins. Just how impressed have you been with that side of the ball?
MIKE McDANIEL: Yeah, I told the team probably a couple weeks ago that – my personal opinion, it wasn't if but when that would occur. I think that there's a lot of very prideful, very high-quality players on that side of the ball, and you figure it's just a matter of time with the way that our defense is orchestrated from a coaching perspective, starting with Vic (Fangio), but really down to all the assistant coaches, and then you see guys strain each and every week. I talk about practice a ton, which gives you a little clue that I think that's the difference maker in professional football, and all I've seen are guys continuing to get better at how they prepare for games, and it's exciting because you tell the team that it's a matter of time before you're able to go punch for punch in any phase, and we're starting to see that now, so I think that just generates more excitement within the locker room and more investment into each other because it's a lot more obvious now at the beginning of the season. There was a couple games, our first two wins, in particular that the defense, that our defense really, that we ended up winning the game in the last possession, and so the whole season it's been kind of a team oriented game, even though there's been a lot of conversation about the offense. But now that we're starting to see this team ball, I think guys are that much more motivated to do the very best they can with this season because this team has a tremendous opportunity every week and hasn't shown anything but complete devotion to each other. They like playing football together, and that's just an example when people don't get down, they just continue to hone in on their details and work together. It's a cool process to be a part of.
The Silver and Black will return home next week to celebrate Thanksgiving and take on their AFC West Rival, the Kansas City Chiefs, on Sunday, November 26, at 4:25 p.m. EST/1:25 p.m. PST.
Please tell us your thoughts when you like our Facebook Page WHEN YOU CLICK RIGHT HERE.