LAS VEGAS (KLAS)– A severe thunderstorm rolled through the Las Vegas Valley on Thursday night, causing major flooding and knocking out power to thousands.
As of midnight, several intersections across the valley remained closed due to flooding, including areas of Maryland Parkway.
The National Weather Service had issued a severe thunderstorm warning for parts of the valley until 9:30 p.m. on Thursday.
The National Weather Service issued the warning around 8:15 p.m. on Thursday as the storm moved toward the valley.
A rain gauge on the Desert Inn arterial picked up a reading of more than an inch of rain.
A flash flood warning issued around 9 p.m. was extended until 11:45 p.m.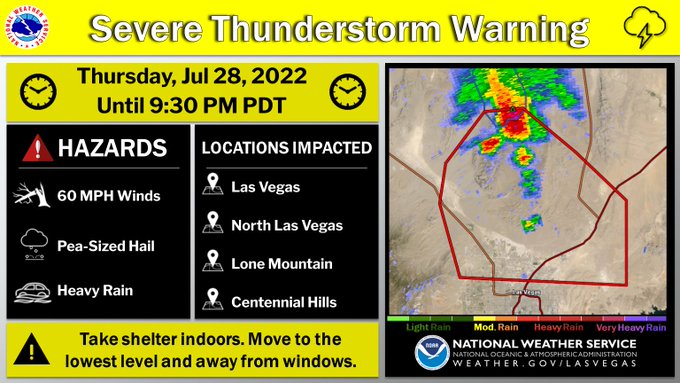 Do not try to drive through flooded roads and if you hear thunder or see lightning head indoors. If you would like to send weather pictures and/or videos send them to pix@8newsnow.com.
Here are some submissions from across the valley:
8 News Now received video of flooding inside Planet Hollywood on the Las Vegas Strip after severe thunderstorms move through the valley.
There have been reports of flooding at the Circa Sportsbook in Las Vegas.