GlobeNewswire
CUEN – Cuentas Unveils State-of-the-Art Disaster-Resilient Buildings in Florida, tapping into a $2.1 Trillion Market to Reshape Real Estate's Future
News provided by
Cuentas Inc.
Nov 21, 2023, 8:30 AM ET
Cuentas Casa, the building division of the company has completed of its first ninety-six-unit multifamily development, utilizing groundbreaking construction technology, marks a significant departure from traditional methods and heralds a new era in building design
Revolutionizing the real estate landscape, Cuentas, Inc. (Nasdaq: CUEN & CUENW) is thrilled to announce a groundbreaking milestone in innovation. The company proudly revealed a state-of-the-art multifamily building using natural disaster-resilient building technology. This cutting-edge development marks CUEN as a leader in pioneering resilient infrastructure, ensuring a safer and more secure future for homeowners in the United States, and demonstrating its steadfast dedication to providing affordable, sustainable, and reliable housing solutions.
MIAMI BEACH, FL, Nov. 21, 2023 (GLOBE NEWSWIRE) -- Cuentas, Inc. (Nasdaq: CUEN & CUENW), the foremost developer of fully integrated cybersecurity, telecommunications, and financial applications for the unbanked and underbanked Hispanic market, has released a management update highlighting the use of a pioneering construction method, reminiscent of interlocking LEGO bricks. This method forms entire structures engineered to withstand natural disasters, boasting top-tier ratings for hurricane and earthquake resistance. This marks the initial phase of Cuentas' visionary goal to revolutionize housing affordability through innovative construction practices.
In a significant management update, Mr. Arik Maimon, CEO of Cuentas, shared insights into the company's triumphant foray into real estate investments and the strategic alliance with RENCO. The completion of its inaugural ninety-six-unit multifamily development using revolutionary construction technology represents a departure from traditional methods.
This milestone has garnered extensive media coverage, with a special focus on core products manufactured with naturally occurring raw materials and recycled products in an environmentally friendly process. A video coverage by a leading US news outlet showcases the Lakewood Village project, highlighting its versatility, departure from traditional materials, efficient construction, and cost-effectiveness. A video of the completed project and the use of the technology is available at: Cuentas Real Estate.
Lakewood Village Project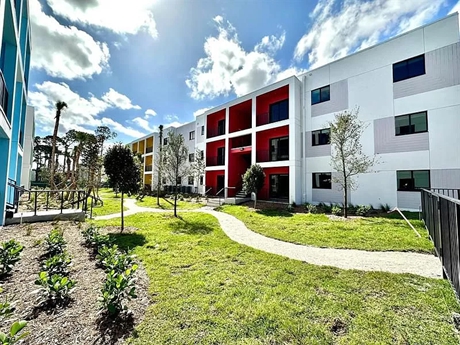 Renco USA, a Florida-based company with nine patents, has developed a state-of-the-art structural building system comprising interlocking composite building units. These units join to form monolithic structures, are cost-effective compared to traditional materials, are self-supporting, lightweight, and environmentally friendly. Cuentas has secured a ten-year agreement  to leverage Renco's technology, solidifying a strategically tight partnership for joint project development. A copy of the announcement can be found here: Cuentas and Renco Supply Agreement
In a significant move, management has invested in a 26-acre property in Tampa, Florida, and is planning a collaborative three hundred sixty-unit complex, branded Cuentas Casa. This investment underscores Cuentas' commitment to sustainable, environmentally resilient, and durable construction, with a remarkable 63% equity participation in the project.
Mr. Maimon, CEO, emphasized, "The investments in Lakewood Village and our new project in Tampa stand as a testament to our management's visionary approach and the strategic selection of this groundbreaking building technology. Our commitment to expanding Cuentas into the lucrative rental income real estate sector is bolstered by the cost-effectiveness and rapid construction capabilities of Renco's technology, ensuring the provision of affordable and quality housing."
Cuentas continues to excel in delivering strategic technology solutions within sectors that provide essential services to the general public, enhancing people's lifestyles. This revolutionary leap forward signifies our commitment to redefine the way we envision, construct, and interact with the spaces that shape everyday life.
Looking ahead, Cuentas is poised to seamlessly integrate future resident services, including Cuentas Mobile, Cuentas Fintech, Cuentas Casa, secure financial services, and business and personal cybersecurity applications, creating a holistic and innovative living experience for our residents.
About Cuentas
Cuentas, Inc. (Nasdaq: CUEN & CUENW) is creating an alternative financial ecosystem for the growing global population who do not have access to traditional financial alternatives. The Company's proprietary technologies help to integrate FinTech (Financial Technology), e-finance and e-commerce services into solutions that deliver next generation digital financial services to the unbanked, under-banked and underserved populations nationally in the USA. The Cuentas Platform integrates Cuentas Mobile, the Company's Telecommunications solution, with its core financial services offerings to help entire communities enter the modern financial marketplace. Cuentas has launched its General Purpose Reloadable (GPR) Card, which includes a digital wallet, discounts for purchases at major physical and online retailers, rewards, and the ability to purchase digital content. In Q1 of 2023 Cuentas launched Cuentas Casa, an alternative housing development initiative that secured a 10-year supply agreement for a patented, sustainable building system that will provide the bridge between its technology solutions and the affordable housing market. Cuentas has made investments to date in affordable housing projects for over 450 apartments. LINK: https://cuentas.com  AND   https://cuentasmobile.com
Forward-Looking Statements
This news release contains "forward-looking statements," as that term is defined in section 27a of the United States Securities Act of 1933, as amended, and section 21e of the United States Securities Exchange Act of 1934, as amended. These forward-looking statements involve substantial uncertainties and risks and are based upon our current expectations, estimates and projections and reflect our beliefs and assumptions based upon information available to us at the date of this release. We caution readers that forward-looking statements are predictions based on our current expectations about future events. These forward-looking statements are not guarantees of future performance and are subject to risks, uncertainties and assumptions that are difficult to predict. Our actual results, performance or achievements could differ materially from those expressed or implied by the forward-looking statements as a result of a number of factors, including, but not limited to, Nasdaq and shareholder approval of the proposed transaction, our ability to manage our research and development programs that are based on novel technologies, our ability to successfully integrate WHEN operations and product offerings, the sufficiency of working capital to realize our business plans and our ability to raise additional capital, market acceptance, the going concern qualification in our financial statements, our ability to retain key employees, our competitors developing better or cheaper alternatives to our products, risks relating to legal proceedings against us and the risks and uncertainties discussed under the heading "RISK FACTORS" in Item 1A of our Annual Report on Form 10-K for the fiscal year ended December 31, 2022, and in our other filings with the Securities and Exchange Commission. We undertake no obligation to revise or update any forward-looking statement for any reason.
Contack Information:
Arik Maimon
CEO at Cuentas Inc
Cuentas Inc. (NASDAQ:CUEN)
Phone:  800-611-3622 
Mobile: 786-774-2835
Web: www.cuentas.com
Email: arik@cuentas.com


NOTE: This content is not written by or endorsed by "KLAS", its advertisers, or Nexstar Media Inc.
For inquiries or corrections to Press Releases, please reach out to GlobeNewswire.